NHL's foreign expansion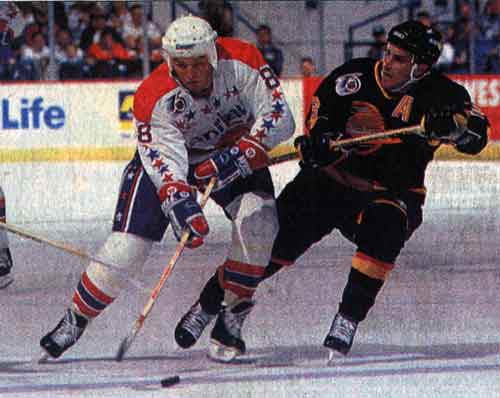 By Nell Seiler, USA TODAY
CAPITALS OFFENSE: Soviet Dimitri Khristich, challenged by Vancouver's Doug Lidster, ignites the attack for Washington, which has been at or near the top of the league all season.
By Nell Seiler, USA TODAY

VALUABLE IMPORT : Soviet Pavel Bure might be the most talented player on the first-place Vancouver Canucks.

By Porter Binks, USA TODAY

BRYAN MURRAY: Brings Soviets, Swede to Detroit.

TV TIMES


FRIDAY: "Heroes of Hockey" exhibition, SportsChannel America, 7 p.m. EST.
SATURDAY: All-Star Game, NBC, 1 p.m. EST.
COVER STORY
Rebuilding teams find help abroad


By Kevin Allen USA TODAY
The National Hockey League's melting pot of nationalities has changed the passport status of winners. Success now has a foreign accent
The Detroit Red Wings, Washington Capitals and Vancouver Canucks, the three surprising division leaders most of the season going into Saturday's All-Star Game at Philadelphia, have used imports to expedite the drive to the top. For them, a key to rejuvenation is immigration.
"And it's not just a Russian influence — it's a European influence," said Brian Burke, Canucks director of hockey operations. "We have two Czechs, two Soviets and a Finn. Getting players from Europe allows you a quicker fix."
How significant is the presence of the Canucks, Capitals and Red Wings atop divisions? In 17 years, the new big three has no Stanley Cup championships and only four division titles among them.
The Red Wings, one of the NHL's original six, haven't won a Stanley Cup since 1955. The Canucks haven't finished above .500 since 1975-76. The Capitals didn't win their first division title until three years ago.
"I think this shows that a few players can make a big difference," Red Wings general manager and coach Bryan Murray said.
The annual draft of 18-year-olds is, at best, a painstakingly slow feeder system. The European leagues, more than the free-agent market, help struggling teams fast-forward the rebuilding process.
That's true in Detroit, where dramatic improvement was hastened by the arrival of Soviets Sergei Fedorov and Vladimir Konstantinov and Swedish defenseman Niklas Lidstrom. In the Motor City, where buying a foreign car is a social sin, import hockey players are favorite sons.
Lidstrom, 22, might be the most exalted defenseman in Detroit since Hall of Famer Red Kelly roamed the ice more than 30 years ago.
In Washington, Soviet Dimi-tri Khristich and Czechoslova-kian Peter Bondra ignited an offensive resurgence.
In Vancouver, Finnish defenseman Jyrki Lumme, acquired from Montreal two years ago, has been All-star caliber, and Soviet Igor Lar-ionov has played an integral role. Soviet rookie left wing Pavel Bure might be the most talented player on the team.
"It's like baseball, three or four players can make your team run; then you add support staff," said former NHL goal-tender John Davidson, an analyst for Saturday's All-Star Game (NBC, 1 p.m. EST).
That was a lesson learned from the Edmonton Oilers dynasty: Find a cadre of great players, let them grow together, then change role players around them when needed. Grant Fuhr, Wayne Gretzky, Mark Messier, Jari Kurri, Glenn Anderson, Kevin Lowe, Esa Tikkanen and others stayed, while role players changed season-to-season.
"The Oilers always had two great lines," Davidson said. "The job for the third and fourth lines was to play at such a high tempo the other team would be thrown off its game. Then the big boys would come in and take care of business."
European hockey slowly is becoming more Americanized with its physical play, but it remains the deepest development pool for one-on-one offen-sive skills.
"They have more skilled players because they don't emphasize physical play," New York Rangers general manager Neil Smith said. "In North America, we tend to emphasize checking and hitting."
But foreign influence isn't the only reason the Red Wings, Capitals and Canucks are first-place teams. The NHL seems to be moving away from the tradition of a handful of powerful teams ruling the rest
Before the Pittsburgh Penguins beat the Minnesota North Stars in the Stanley Cup final last season, only four teams had been champions the last 15 years. The appearance of newcomers in the final might signal the end of dynastic rule.
"Parity is a word you can't get away from," Washington general manager David Poile said. "It describes what is happening in the NHL."
Detroit left wing Paul Yse-baert calls parity a byproduct of increased player movement.
"Wayne Gretzky was traded. Mark Messier was traded.
Grant Fuhr was traded. Scott Stevens moved as a free agent," he said. "We've never seen so many big names move. That changes the league."
Perhaps the sub-.500 North Stars' advance to the Stanley Cup final altered the way fans and players view the postseason.
"It gives everyone a chance to dream," Davidson said. "There is no dominant team. In the days of Edmonton and the New York Islanders, your chances of beating them weren't real good. Now, everyone has a chance."
The Canucks, Red Wings and Capitals also took major steps to improve their fortunes. In addition to the arrival of Europeans, Murray traded for Ysebaert and signed free agent Ray Sheppard; they have combined for 45 goals.
"Bryan Murray deserves a medal for finding enough ice time to keep all of his good players happy," Davidson said.
And despite the addition of Fedorov, Konstantinov, Lidstrom, Ysebaert and Sheppard, Murray credits All-Star center Steve Yzerman for much of the team's success.
"He has changed a lot," Murray said. "He was very quiet. Now, he's a cheerleader on the bench. You can hear the mood in the dressing room. It comes from winning, but also from having good people in the dressing room."
The Capitals' rise has caused the most head-scratching. "They surprised me," Smith said. "You couldn't have predicted their success because you couldn't have known Bondra and Khristich would play at this level."
The Capitals, who didn't have a player with more than 25 goals last year, have been at or near the top of the league in scoring all season.
"Their defense is among the best at moving the puck out of their zone," Smith said.
Poile, who plugged some holes by acquiring Randy Bur-ridge, Todd Krygier and Syl-vain Cote, doesn't see the Capitals as an overnight success.
"Some of the pieces were there last season — this year, they have been here from day one," he said. "We had problems last season — (Dino) Cic-carelli broke his wrist. Bondra came in and needed time to adjust. Khristich didn't get here until January. They make up a lot of offense this year." The Canucks' rise is linked to a trade with the St. Louis Blues late last season that brought Cliff Ronning, Geoff Courtnall, Robert Dirk and Sergio Momesso. But Pat Quinn also points to the acquisition of Dave Babych and Tom Fergus and the play of All-star goal-tender Kirk McLean.
Rival general managers point to Quinn's decision go back behind the bench.
"The other factor linking all three teams is they are getting good coaching," Davidson said.
The success of the Red Wings and Capitals are interwoven by a family bond. Poile's firing of Bryan Murray gave Murray the opportunity to be general manager in Detroit and opened the door for brother Terry to coach in Washington. "I'm happy to see Washington be successful," Bryan said.
Vancouver fans, not accustomed to success, are happiest about the turn of events.
"This week, we are geniuses," Burke said. "But for a team like Vancouver to brag, we have to play at this level for a lot longer. A lot longer."